Accommodation
Looking for somewhere to rest your head in the Red Centre?
There is a wide variety of accommodation near Uluru catering for all budgets and tastes. Uluru accommodation options range from camping right through to five star luxury resorts and everything in between, making it a fantastic Australian holiday destination. Here we've listed a handful of accommodation options for visitors planning to stay in Alice Springs or venture closer to Uluru-Kata Tjuta National Park with a stay at one of the many Ayers Rock Resort accommodations.
Backpacking around the Red Centre is one of the top ten must-dos in Australia for tourists, as a result there are a range of budget friendly accommodation options in both Alice SPrings and Ayers Rock Resort. You can have a great time backpacking the Red Centre and all without breaking the bank or sacrificing comfort and safety.
Whether you are a backpacker on a serious budget or you want the absolute best you can get, there is something for everyone to make your holiday at Uluru really special.
Alice Springs Accommodation
You can choose to stay in Alice Springs, which is a great central base in which to explore the natural and cultural attractions of the Red Centre. Alice Springs is around a 6 hour drive to Uluru-Kata Tjuta National Park which is great for day trips to Uluru if you start the day early. Additionally, Alice Springs is filled with an array of things to see and do that showcases its rich history, culture and remote, outback personality. See below for a list of some of the available accommodation options in the area.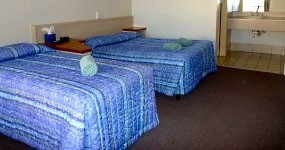 Alice Motor Inn
Located a short 10-minute walk from the city centre, Alice Motor Inn is a small, family run 20-room motel. There are three different room options to chose from; Budget Double/Twin, Deluxe Double/Twin and Family/self-contained room with kitchen.
Facilities:
Wifi
Complimentary light breakfast
Secure parking
Pool
BBQ Area
Guest kitchen & laundry
Non-smoking rooms
Tour desk
Rates:
Budget: $90 per night
Deluxe: $100 per night
Family: $110 per night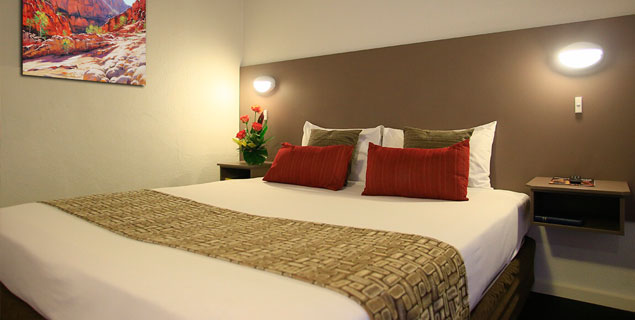 The Diplomat Motel
Close to shops, the Diplomat is a great place to spend the night between tours and exploring the greater Alice Springs area. There are a handful of room options available including Budget, Standard, King and Superior and kids can stay for free on existing bedding.
Facilities:
Free Wifi
Tour Desk
Pool
Guest laundry
Stumps Family Restaurant
Room Service
Rates:
Budget: $90 – $99
Standard: $99 – $125
Superior: $110 – $165
King: $125 – $165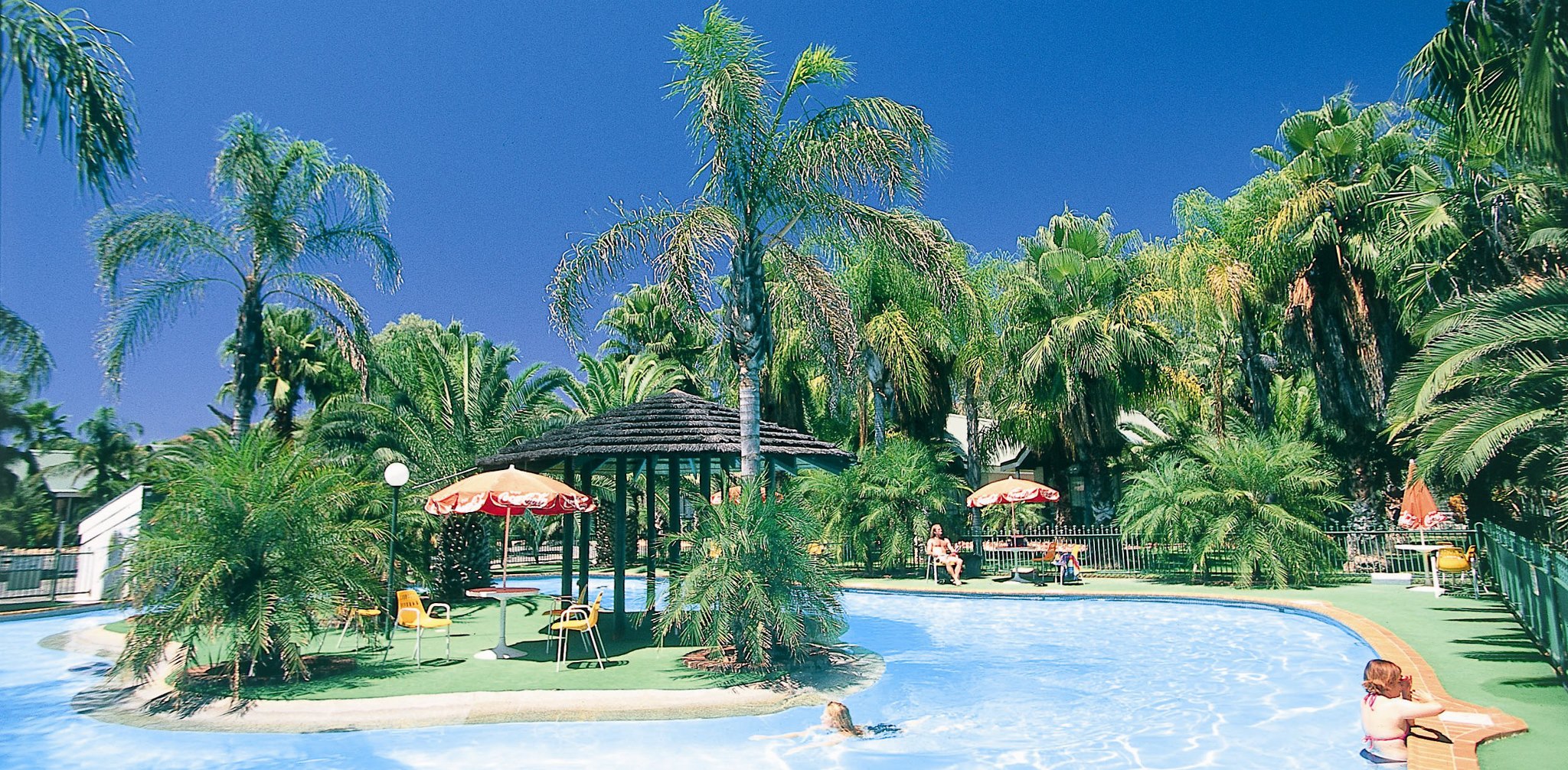 Desert Palms Resort
A kilometre from town is Desert Palms Resort, a motel on the bank of the Todd River overlooking the MacDonnell Ranges. There are four room options; double, triple, quad and family villas.
Facilities:
Free Wifi
Tour Desk
Pool
Guest laundry
Secure parking
Rates:
Double from $125
Triple from $130
Quad from $150
Family from $150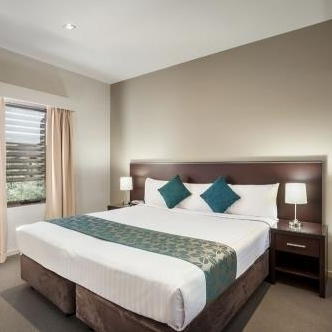 Quest Alice Springs Apartments
In close proximity to the CBD the Quest Alice Springs Apartments live up to the expectations of its sister Quest's around the country. It is equipped with studio, one, two and three bedroom apartments and has received a number of achievement awards for their service.
Facilities:
Free Wifi
Pool
BBQ Area
24 hr onsite management
Free car parking
Rates:
Rooms from $150
Check website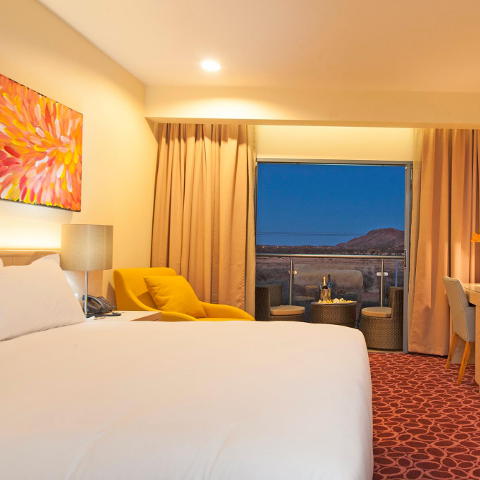 Lasseters
Combining accommodation and entertainment, Lasseters offers accommodation, dining and a casino. Located along the Todd River and in close proximity to town you can stay in one of their standard, deluxe and premium rooms or their superior, deluxe and premium suites.
Facilities:
Free Wifi
Heated pool & spa
Complimentary mountain bikes
Dry cleaning & laundry
Room Service
Rates:
Rooms from $150
Check website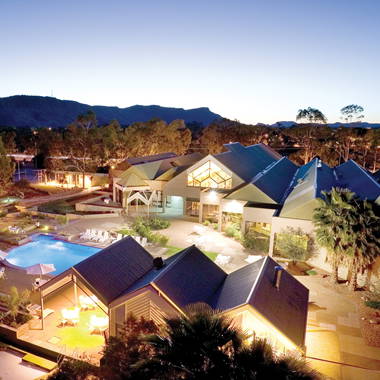 Double Tree by Hilton
A 15 minute drive from Alice Springs Airport and within walking distance of the downtown area, the Double Tree by Hilton is a great getaway. Room options include double and king rooms both with or without mountain views, and the double and king junior suites and king premier suite.
Facilities:
Hanuman Restaurant
24 hr fitness centre
Pool
Tennis Court
Wifi
Rates:
Rooms from $135
Check website
Ayers Rock Resort Accommodation
To truly experience the best of Ayers Rock and The Olgas there are alternative options that are closer to Uluru allowing you to immerse yourself in the magical surrounds of the National Park. Yulara is the closest township to Uluru and offers a range of accommodation and activities to enjoy at the Ayers Rock Resort. Staying close to Uluru certainly has its advantages as you can experience the changing colours of Uluru and Kata Tjuta at sunrise and sunset. You can also experience the myriad of bright stars that light up the crystal clear outback skies.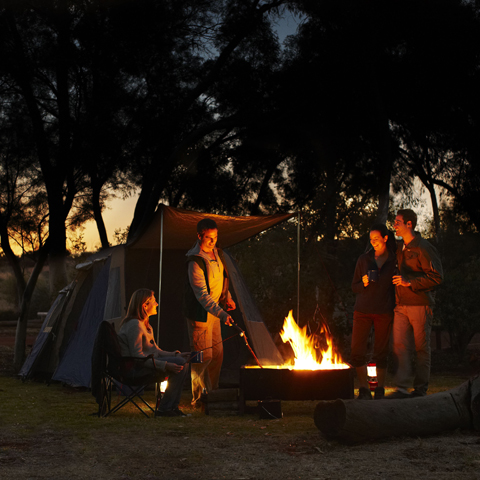 Ayers Rock Camp Ground
Just a 15 km stretch from Uluru, the Ayers Rock Campground offers a range of affordable accommodation options. From air-conditioned cabins, to powered caravan, campervan, motorhome and camper trailer sites to basic tent camping areas.
Facilities:
BBQ factilities
Outdoor kiche
Self service laundry
Swimming Pool
Wifi
Volleyball Court
Playground & giant chess set
Pet friendly
Free car parking
Free resort shuttle bus
Rates:
Sites from $36
Check website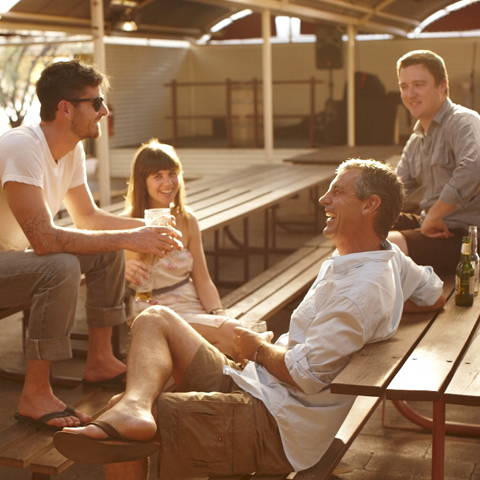 Outback Pioneer Lodge
Great budget accommodation for travellers, Outback Pioneer Lodge offers a range of room options including Budget Rooms both with and without bathrooms and hostel accommodation for backpackers.
Facilities:
Free guest activities program
Free Resort shuttle bus
24 hr reception
Free parking
Swimming pool
Shared self-catering kitchen
Self-service laundry facilities
Common room w/ TV, internet & games
Rates:
Rooms from $38
Check website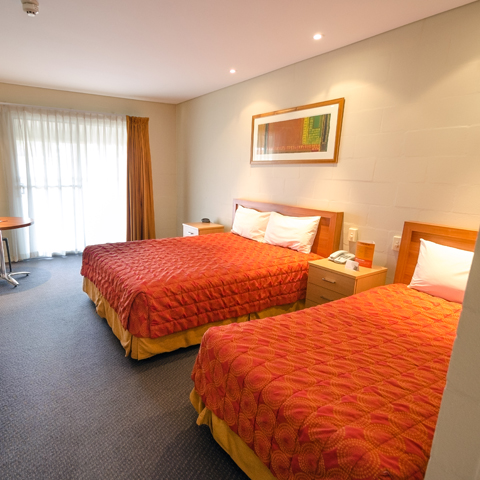 Outback Pioneer Hotel
An affordable and comfortable option for those looking to travel in style with privacy. The standard rooms offer everything you'll need including a queen and single bed configuration or one queen and two singles.
Facilities:
Free Wifi
Free guest activities program
Private en-suite bathrooms
Swimming pool
Bought House Restaurant & Outback Pioneer Bar
Free parking
Rates: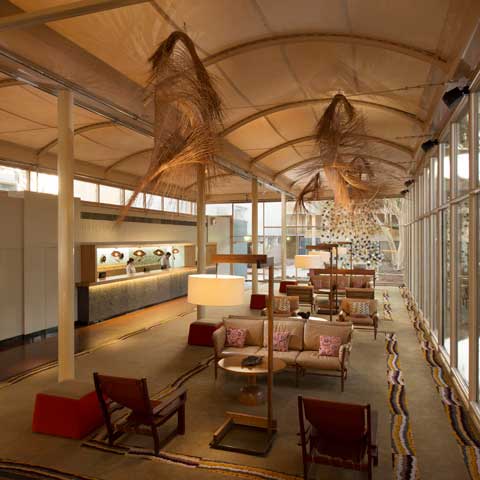 Sails in the Desert
A luxurious option, Sails in the Desert comprises of 228 five star rooms and suites including the superior and terrace rooms and deluxe suites.
Facilities:
Free Wifi
24 hr reception
24 hr room service
Red Ochre Spa
Swimming Pool
Free parking
Free guest activity programs
Rates:
Superior from $476
Terrace from $564
Deluxe from $1,020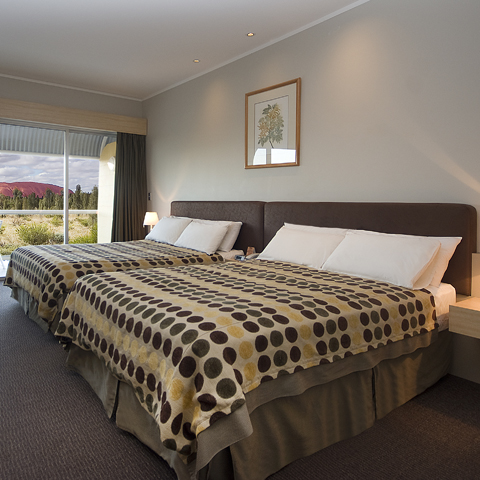 Desert Gardens Hotel
The only accommodation option with views of Uluru, Desert Gardens Hotel offers a selection of rooms from deluxe rock view to shady poolside rooms.
Facilities:
Free Wifi
Tour Desk
24 hr reception
Free guest activities program
Swimming Pool
Restaurant and bar
Room Service
Rates:
Garden View from $385
Deluxe Room from $394
Deluxe Rock View Room from $451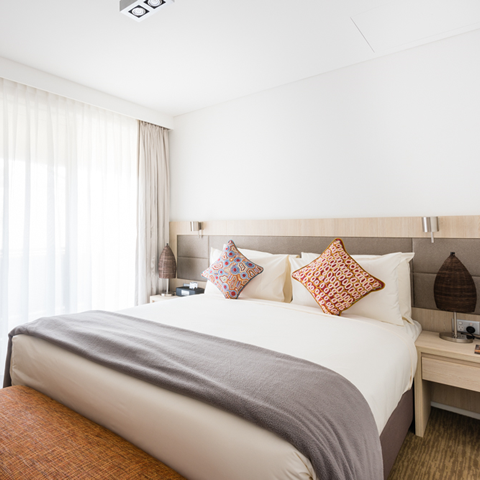 Emu Walk Apartments
Located just 20 kilometres from Uluru, this is luxury accommodation in the form of fully-serviced apartments. Choose from one or two bedroom apartments to make your stay comfortable and enjoyable.
Facilities:
24 hr reception
Daily housekeeping
Fully equipped kitchen
Free Wifi
Free parking
Rates:
One Bedroom from $404
Two Bedroom from $514
Book an Outback Tour Today
To begin your journey into Australia's heartland, book online or give our consultants a call on 1300 935 532.