Getting There
Planning to travel to the Red Centre? Here we break down the best ways to travel.
 Location
Ayers Rock is located right in the heart of the Kata-Tjuta National Park in the centre of Australia's Northern Territory – the country's northernmost state. The iconic, giant monolith lies approximately 335 kilometres south-west of the nearest town, Alice Springs as the crow flies, with the distance reaching around 480 kilometres by road.
The top end can be reached a number of ways with one of the most popular being self-driving. Road tripping to the northern end of Australia is as beautiful as it is time consuming, so be prepared to spend days behind the wheel (depending on where you are leaving from) while being in complete awe at the same time.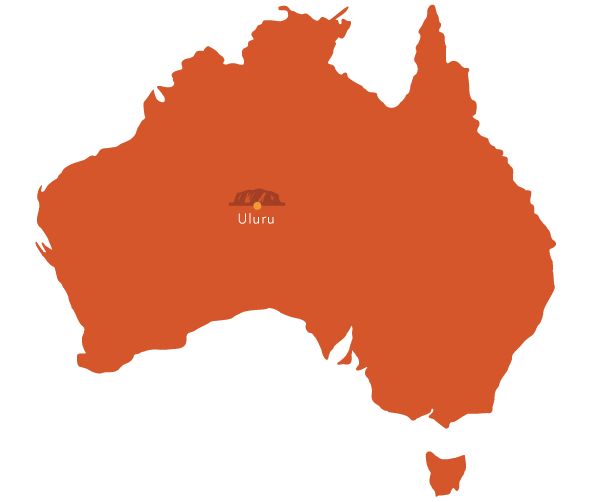 How to get there
Uluru-Kata Tjuta National Park is located in the southwest of Australia's Northern Territory, approximately 440 kms or a 4.5 hour drive from Alice Springs. Yulara is the closest township to Uluru or Ayers Rock located just 20 kms away.
All major Australian cities have flights into Alice Springs, from where you can arrange to hire a rental car or camper van for a self-drive tour of the Red Centre. Alternatively you can catch a direct flight to Ayres Rock from most major Australian cities to the Uluru Airport (Conellan Airport) situated near Yalara.
Once here you can choose to join an organized guided tour or catch a coach transfer to and from Uluru and Alice Springs. There are also coach transfers available between Uluru and Alice Springs to Kings Canyon. Some resorts and accommodation can organise free transfers from the Ayers Rock airport, check while booking your Uluru and Alice Springs accommodation.

By Plane
From Sydney
Jetstar
Virgin Australia
Qantas (via Alice Springs)
From Melbourne
Jetstar (4 weekly return service to Tullamarine on Tues, Wed, Fri & Sun)
From Cairns
If travelling from other Australian capitals, all three airlines offer connecting flights from most cities.

By Car
Below are approximate driving times from various Australian capitals and cities to give you a rough indication of the long road that lies ahead of you.
From Alice Springs: 6 h 5 mins (494.5 km)
From Adelaide: 17h 19 mins (1,627.1 km)
From Darwin: 22h 13 mins (1,991.1km)
From Melbourne: 25h (2,351.5 km)
From Canberra: 28h (2,652.5 km)
From Sydney: 30h (2,868.7 km)
From Brisbane: 34 h (3242.7 km)
From Perth: 38h (3705.3 km)

By Bus
There are various bus companies that will transfer you to and from Uluru/Ayers Rock with comfort and ease. Below are a handful of the companies that operate transfers to and from this iconic landmark.
Greyhound Australia
AAT Kings
Adventure Tours Australia
Book an Outback Tour Today
To begin your journey into Australia's heartland, book online or give our consultants a call on 1300 935 532.